You want your writing free of embarrassing grammatical errors and mistakes, right?
Grammarly is an online grammar checker and proofreading tool that automatically detects grammatical mistakes and helps you avoid typos, and grammatical errors and improves the quality of your writing.
This post contains affiliate links. I may receive a commission for purchases made through these links. This commission comes at no extra cost to you. Also, I don't recommend anything that I don't believe in.
As I'm not a native English speaker, Grammarly helps me to feel confident when I write in-depth content for my blog or when I write emails and social media posts.
No matter if you are a native, a non-native English speaker, a blogger, or a professional writer, we all make mistakes!
So, Grammarly is the tool you should use to write error-free content, and If you're not confident enough to publish your blog posts, you should definitely use Grammarly to boost your confidence.
Grammarly Features: What Does Grammarly Do?
Grammarly is an easy to use proofreading tool that improves your writing by checking for several errors.
It detects spelling errors, critical grammatical mistakes, and punctuation errors and tell you what needs to be changed and why.
Grammarly also detects plagiarism by comparing your writing to millions of articles across the web. It helps you avoid plagiarism as Google, and we all hate plagiarized content.
It will also help you enhance your writing style by providing real-time insights about your readability score, and sentence lengths, and it detects overuse of words, suggests relevant words, and much more.
Read more: 17 Genuine Ways to Make Passive Income While You Sleep
Who is Grammarly Useful For?
Grammarly is a popular online grammar checker tool useful for both native English speakers and non-natives, who don't write in the English language often and those who want their writing to be mistake-free including:
For new bloggers, writers, and non-native English speakers, Grammarly acts as a confidence booster as it removes all spelling mistakes and critical grammatical errors.
Grammarly also lets you select between American English, Canadian English, British English, and Australian English, and you can use any of these dialects in your writing.
How Does Grammarly Work?
Once you create a Grammarly account for free, you're ready to use it to improve your writing.
I love writing articles on Google Docs. After the recent Grammarly updates, now it's compatible with Google Docs and it suggests corrections and suggestions as you're writing the article.
To detect errors on Google Docs, you need to install the 'Grammarly for Chrome' extension. Once you're writing, It will flag any errors in red and underline incorrect words or grammar and show you what to replace it with and why if you simply hover over it.
But if you want more features, you need to use the Grammarly web app or desktop app, which is available for both Windows and Mac.
You can set writing goals based on your intent, audience, writing style, etc. 
After that, you just have to copy and paste your entire article or writing into Grammarly for proofreading, spell checking, and grammar checking.
Grammarly also offers an add-in for MS Office, and a Keyboard app for Android and iOS, that you can use on your mobile device.
Whenever you type with the keyboard, Grammarly will check your writing for spelling mistakes and some grammatical errors.
For Grammarly premium users, the keyboard app also detects critical grammatical mistakes and suggests vocabulary enhancement and writing style improvement.
How Much Does Grammarly Cost?
Here is the pricing of each Grammarly plan as of 2019:
It's the best deal out of these three premium options. If you want to go with premium, go with the annual plan as its the most cost-effective plan.
It comes with features like priority 24/7 email support, monitoring tools, centralized billing, admin and user management controls for the privacy and security of your team's work.
It comes with all the premium features, including 24/7 support and vocabulary enhancement tools.
Should I Go With Free Or Premium?
If you can't afford the premium version of Grammarly, I would suggest going with their free version.
Grammarly's free plan has almost everything the premium plan has besides the plagiarism checker and the advanced writing detector.

If you're a new blogger or a writer, I think the free grammar checker and proofreader version is enough to boost your confidence, eliminate common errors, and make your content readable to your audience. 
However, if you can afford a Grammarly premium plan and you want more advanced features, you need to go with Grammarly premium plan.
Read more: The Ultimate Guide on How to Start a Money Making Blog
Grammarly Alternatives: What's The Best Grammar Checker Tool?
Grammarly isn't the only option when it comes to grammar checker and proofreading online tools.
There are other tools out there that are very similar to Grammarly; you might want to check out.
All these tools are fantastic, and occasionally I use them too. But I think Grammarly is more beginner-friendly, user-friendly, and most effective grammar checker tool out there.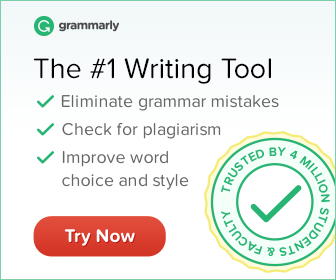 Final Thoughts: Grammarly Review 2023
I like Grammarly because it's the secret weapon that helps me boost my confidence. It automatically detects my mistakes and quickly gives me a solution in real-time.
Grammarly is the best writing assistant out there, but keep in mind that it's not a replacement for a human proofreader.
Overall, Grammarly is a great grammar checker and proofreading tool that can make your writing error-free, advanced, and trustworthy.
So, you should use Grammarly if you're a person who wants to feel confident by avoiding all embarrassing spelling errors and grammatical errors.
Now It's Your Turn!
Hey, I hope you enjoyed reading this Grammarly Review.
Now I'd like to hear from you:
Are you going to use Grammarly to improve your writing or to boost your confidence?
Let me know in the comment section below right now.
If you're an existing Grammarly user, don't forget to share your experience!
Also, share this post with your friends and new bloggers who are looking for an advanced, cost-effective, and beginner-friendly tool to improve their writing.
Grammarly Review 2023: Boost Your Confidence & Enhance Your Writing! #Blogging #WritingTips #Grammarly
Click To Tweet
If you have any questions, feel free to contact me. I'm always available to help young hustlers like you.
Keep hustling!