Affiliate marketing is a huge opportunity to make passive income from your blog. And It can drive more revenue than Adsense ads.
So, if you have a loyal target audience, you should use affiliate marketing to convert your blog into a money-making blog.
The best part is,
Affiliate links don't affect your site design and don't distract your visitors.
In fact:
Relevant affiliate links helps your visitors choose the right product and add value to your target audience.
What is Affiliate Marketing?
Here's the perfect definition of affiliate marketing by Pat Flynn:
"Affiliate marketing is the process of earning a commission by promoting other people's (or company's) products. You find a product you like, promote it to others, and earn a piece of the profit for each sale that you make."
To make money from Affiliate marketing, all you need is a loyal and a target audience.
You can build your target audience using a blog, a podcast, a YouTube channel, or other social media platforms. Also, you should focus on building an email list.
Once you have some loyal audience, you can use these platforms and your email list to promote affiliate products.
To earn more passive income from affiliate marketing, always promote products that are valuable and helpful to your audience.
This post contains affiliate links (I don't recommend anything that I don't believe in), meaning at no extra cost to you, I might receive a small commission for purchases made through these links.
Read More: 9 Proven Ways to Monetize Your Blog – Make Money Blogging in 2020
Top 29 Affiliate Programs You Must Join to Monetize Your Audience in 2023
In this post, I'm going to show the Top 29 affiliate programs that you can join as a creator or a blogger to monetize your blog and your audience.
Let's dive right in.
ShareASale has been in business for 19 years, exclusively as an affiliate marketing network. It's one of the largest affiliate networks out there.
It has a huge variety of merchants to choose from in over 40 categories, including:
Once you get approved into the ShareASale affiliate network, you're able to start promoting ShareASale right away, as well as you can apply to be an affiliate for different companies.
Join the ShareASale affiliate network to promote ShareASale and other relevant affiliate programs right now!
Canva affiliate is back after a long time. Now you can make money promoting Canva.
Canva is an essential design tool for bloggers, digital marketers, entrepreneurs, and small business owners.
It's a beginner-friendly online design tool, and the best part is it has a free version.
Almost every blogger uses Canva to design graphics for their blog. And those who aren't using Canva, someday they're going to use Canva for their design work.
Canva lets you earn up to $36 for each new Canva Pro subscriber who signs-up through your unique affiliate link.
Envato Market is the world's largest creative marketplace where you get everything you need to get your creative projects done.
By joining the Envato Market affiliate program, you can promote:
WordPress themes from ThemeForest.

WordPress plugins, app scripts, and mockups from CodeCanyon.

And lots of other products, including graphic templates, stock videos, stock images, and music tracks.
When a user clicks your referral link and makes a first purchase via any Envato Market site, you'll even 30% commission!
Using CopyAI, you can generate complete high-quality blog posts in a matter of seconds. Write better copy for content marketing, blogs, websites, and more — all in one click! Save time and get better results with CopyAI, the world's leading artificial intelligence copywriting tool.
Within the first 12 months, you will earn a 45% commission on all payments. Each click on your affiliate link is tracked for 60 days, so you'll get credit if someone buys within that timeframe.
Currently, the price is $49/month, so 10 referrals equal $220/month!
Olavivo.com has been in business since 2017, focusing exclusively on affiliate marketing in Crypto, Finance, Sweepstakes & Leadgen verticals.
There are lots of benefits they offer to affiliates, including weekly/bi-weekly/monthly payments, real-time reports, dedicated managers, top-converting offers from 100+ countries in 18 different languages around the globe, various payment methods-including crypto payments, high payout rates, and an excellent referral program.
Everyone is welcome at Olavivo be it advertiser, affiliate marketer, social media influencer, blogger, or vlogger, you can become an Olavivo partner and make money by promoting top-converting global offers.
If you're a beginner affiliate marketer, Amazon Associates is the best affiliate program to kick off your affiliate marketing venture.
Amazon is one of the largest and most reputable online marketplaces for selling almost anything. They have millions of products that you can promote to your audience.
You can promote books, clothing and accessories, arts and crafts, Kindle e-Books, and other products that are relevant and helpful to your audience.
You can expect up to 10% on any qualifying product sale that comes from your link.
The best part is:
If someone gets to Amazon, through your link, and buys different products, even if it's not the product you link to, still you get a commission for that or those other products.
The only cons of Amazon Associates is that the affiliate cookies only last 24 hours.
ConvertKit is an authoritative email marketing service provider that is specially marketed towards bloggers, influencers, podcasters, creators, and other businesses that are building audiences.
ConvertKit sends you a 30% recurring commission every month for every person who signs up to ConvertKit through your affiliate link.
If you're a beginner blogger and want to monetize your blog with affiliate link, you must join the Impact affiliate network.
The Impact affiliate network hosts several popular affiliate programs, including Envato Market and 99designs.
Once you get approved into the Impact affiliate network, you can apply to be an affiliate for other relevant affiliates programs.
CJ Affiliate (formerly Commission Junction) is one of the oldest affiliate programs that work with the world's best brands, including Godaddy, Aweber, Grammarly, and OYO Rooms.
Well, Grammarly is everywhere. But the only way to get access to the Godaddy affiliate program is through the CJ affiliate network.
Rakuten Affiliate Network is one of the best affiliate marketing networks you can join to get access to thousands of relevant affiliate programs.
Once you get approved into the Rakuten affiliate network, you're able to start promoting Rakuten right away, as well as you can apply to be an affiliate for other relevant affiliates programs.
Also, to join the Udemy affiliate program, you need to join the Rakuten Affiliate Network.
99 design is a design specific freelance marketplace, and it's the best place to find and hire talented designers for your creative projects or to grow your business.
They pay you commission based on the number of sales you get.
For every new customer, you refer you get $35 per sale. When you bring 50+ customers, you get $50 per sale. Once you bring 50+ customers every 3 months, you get $80 per sale.
VigLink is one of the best and easiest ways to monetize your blog and make money from affiliate marketing.
It's a different kind of affiliate marketing program that automatically converts your existing normal outgoing link into affiliate links.
The best part is,
You don't need to get signed up for an individual affiliate account on all affiliate networks. VigLink tracking takes care of all those affiliate networks automatically, as they have access to lots of affiliate programs all over the world.
SafetyWing Nomad Insurance is a global travel medical insurance that covers people from around the world, while outside their home country.
You will earn an ambassador fee on all purchases made by your referred users for the first 364 days after signing up. In the same way, you earn a fee every month if someone you refer subscribes repeatedly to cover several shorter trips or different products.
Bluehost is a reputable, reliable, and the most affordable hosting services one can use for their blog as a beginner blogger.
They offer a free .com domain, one-click WordPress installation, Free SSL certificate, and 24/7 customer support.
Bluehost is one of the higher paying affiliate programs, and you can make $65 per referral working with them.
So, if you want to start a blog, I highly recommend Bluehost for your hosting needs.
Also, I recommend you sign up for their affiliate program to monetize your blog using their affiliate link.
SiteGround is a reliable web hosting company that offers fast and secure web hosting for small and medium sites.
They offer high commissions, and the more you refer, the higher the commission you get per sale.
SiteGround pays you a commission based on the number of sales you get.
For sales between 1-5 per month, you get $50 per sale. For sales between 6-10 per month, you get $75 per sale. If you sell between 11-20 sales, you get $100 per sale.
Divi is one of the most beginner-friendly and powerful premium WordPress themes by Elegant Themes.
If you're a complete beginner and looking for the best WordPress theme for your blog, I highly recommend you Divi. You can use 129+ pre-made professional layout packs to design your blog from scratch.
They offer the highest commission percentage of any WordPress Theme company available on the internet. When you refer someone to Elegant Themes sites through your affiliate link, if they sign up, you get a 50% commission on the sale.
DreamHost is an affordable web hosting company that offers 100% uptime guaranteed, fast, and reliable web hosting for web designers, bloggers, and online businesses.
By promoting DreamHost, you can earn up to $200 per referral.
As a beginner blogger, you can't expect millions of organic traffic from Google. But you can use Pinterest to drive massive traffic to your blog.
If you want to get massive traffic from Pinterest to your blog, you have to save engaging, attractive, and valuable pins consistently.
But it's hard to stay consistent by saving pins manually. That's why many bloggers and I use Tailwind to automate our pinning strategy and to schedule our pins.
Tailwind is a Pinterest scheduling tool that can earn you 15% recurring commission. Meaning, if a new blogger signs up for a monthly Tailwind plan through your affiliate link, you will receive 15% commission every month!
It helps bloggers stay consistently active on Pinterest with minimal effort.
So, beginner bloggers are always ready to use Tailwind. Meaning, you can easily attract lots of bloggers and Pinterest users by promoting Tailwind on your blog.
Also, your Tailwind affiliate link has 90 cookies attached. So, if someone clicks on your link and buys Tailwind 90-days later using your link, you'll earn a commission.
If you want to use Tailwind for yourself,
You can schedule your first 100 pins for free using Tailwind!
Want to become an affiliate?
Join the Tailwind affiliate program and start earning recurring income every month.
Grammarly is an online grammar checker and proofreading tool that automatically detects grammatical mistakes and help you avoid typos, grammatical errors, and improve the quality of your writing.
No matter your niche that your blog is in, you can promote Grammarly!
Because when we write, we all make mistakes.
So, Grammarly is an essential and helpful software for you if you are a blogger, writer, or student, and the best part is – it has a free version.
If you want to learn more about Grammarly, check out this post:
Grammarly Review 2020: Boost Your Confidence & Enhance Your Writing
Being an affiliate, I know promoting Grammarly is easy and effortless since everyone wants to improve their writing, and everyone wants to use Grammarly to enhance their writing.
Grammarly affiliate program is a high paying cost per action (CPA) type affiliate program that pays you $0.20 per free sign up and $20 for every successful upgrade.
Also, the Grammarly referral program has an insanely high conversion rate (20-30%), and your link has 90-day cookies attached. Meaning, someone can click on your Grammarly affiliate link, download it 90 days later, and you still get a commission off it.
The best part is,
As soon as you get approved into the Grammarly Affiliate Program, Grammarly gives you $25 activation bonus when you place a banner and write a Grammarly review post on your blog.
It's a lightweight, easy to customize, and most popular WordPress social sharing plugin available on the market.
It has a free version with limited social sharing buttons and has paid plans with more buttons and customization features.
Social Warfare lets you earn 30% commission per referral that signs-up through your unique affiliate link.
Teachable is an easy to use online learning management system (LMS) that helps niche experts and content creators easily create online courses.
Teachable will pay you a recurring commission of 30% (per month) per paying customer, that converts through your affiliate link. The cookie life of the Teachable affiliate program is 90-days.
Udemy is the world's largest online teaching and learning platform. It's the most reputable e-learning platform with over 50,000 instructors, 100000 courses (in over 60 languages), and 30 Million students.
As people always want to learn more, you can promote thousands of useful courses from hundreds of categories.
If you want to get more views on your YouTube videos, you need to use the free vidIQ chrome extension. It helps you maximize your organic reach and helps you grow your YouTube channel fast. They also offer paid plans with more amazing features.
Like SiteGround, vidIQ also pays you commission based on the number of sales you get.
For sales between 0-10, you get a 15% commission per sale. For sales between 11-50, you get a 20% commission per sale. If you make 51+ sales, you get a 25% commission per sale.
TubeBuddy is a YouTube management tool that offers free extension from Chrome and Safari browser that adds smart YouTube management features to grow your YouTube channel. They also have paid plans with more amazing features.
The best part about TubeBuddy affiliate program is that you can earn a free star or legend license for yourself by referring people (even if they don't pay for an upgrade).
When someone upgrades to a paid version, you'll get up to 50% recurring commission forever.
MaxBounty is a leading cost per action (CPA) affiliate marketing network that already worked with McAfee, Norton, and T-Mobile.
They offer a wide range of reputable products that you can promote.
But their application process is a bit strict. After you sign up by filling your accurate information, they might call you via Skype or your phone number to ask you some questions regarding your niche and traffic source.
When you get approved, you can start promoting hundreds of affiliate products on your blog to monetize your audience.
Creative Market is a one-stop-shop to all creative design products. Fonts, stock images, illustrations, mockups, and even WordPress themes are available in this marketplace.
They let you earn 10% on all referred Creative Market customer purchases for a full year.
Ultimate Bundles offers "bundles" of e-books, courses, guides and resources for a massive discounted prices that range from 90 to 95% off than the original price.
They launch these bundles only once or twice a year, but because of the massive discount, you can easily convert your audience into a customer of Ultimate Bundles.
As an affiliate, you will earn 40% of the commission that you make during their bungle launches.
Fiverr is a global online freelance marketplace. Lots of people buy and sell services and products everyday through Fiverr.
I started my entrepreneurship journey as a freelance designer on Fiverr.
Fiverr is a very affordable freelance marketplace, as the services start from $5.
Also, it's a beginner-friendly and user-friendly freelance marketplace, that's why many freelancers and business owners prefer Fiverr to exchange their money and services.
When you drive traffic to Fiverr through your link, if it converts, you can expect CPA up to $150.
Fiverr is a reputable freelance marketplace, useful, and the CPA is very high. These three reasons are enough to monetize your audience by promoting Fiverr.
Mailerlite is a beginner-friendly email marketing and automation tool that lets you easily customize and create beautiful email forms that fit with your branding.
It's a great alternative to MailChimp because of its easy to customize features. Mailerlite free plan lets you have up to 1000 subscribers.
For every referral, you'll earn 30% of both the initial sale and the recurring payments.
Once you've made $120 in commission, you can request a payout through PayPal anytime.
Thrive Themes is a membership site that offers conversion focused WordPress themes, plugins, and some other useful tools to their members.
Through Thrive membership, individuals, entrepreneurs, and web designers get access to all their products.
Thrive Themes affiliate program gives you 35% commission per purchase, and then 25% recurring commissions on the yearly renewals.
Kinsta is one of the best-managed WordPress hosting providers I've ever seen. It's super-fast, secure, and reliable. It comes with features like daily automatic backups, free SSL, and lots of other useful features.
You'll earn $50-$500 for every referral depending on the plan and 10% recurring commissions as long as your referrals stay on.
Aweber is a reliable and affordable email marketing service. It's one of the best premium email marketing services you can use to promote affiliate products via email if you're a beginner blogger.
They send you a 30% recurring commission every month for every person who signs up to Aweber through your affiliate link.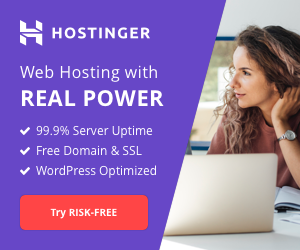 As an online entrepreneur and a blogger, I have used Bluehost, Siteground, BigRock, Dreamhost, and for our web design company, we have used HostGator, but now I'm using Hostinger, which is the cheapest and the best hosting available online.
With Hostinger, you can earn at least 60% for every sale you make.
Final Thoughts: Top 29 Affiliate Programs You Must Join to Monetize Your Audience in 2023
Blogs like SmartPassiveIncome, ShoutMeLoud, WpBeginner, etc., search engine DuckDuckGo and the big brand Trivago use Affiliate marketing as their primary ways to monetize their business.
So, affiliate marketing is a proven and genuine way to make passive income by monetizing your loyal audience.
If you are a beginner blogger, you should monetize your new blog using affiliate links from day one, as well as try to drive targeted traffic to your blog to build a loyal audience.
Using these high paying affiliate programs, you can easily monetize your existing audience or your upcoming audience.
Some of these affiliate programs are relevant for all niches out there. Maybe some affiliate programs aren't relevant to your audience.
So, you should choose relevant affiliate programs to monetize your audience to ensure that you're earning money by providing value to your audience.
Now It's Your Turn!
Hey, I hope you enjoyed reading this list of the top 21 affiliate programs you must join to monetize your audience.
Now I'd like to hear from you:
What's your favorite affiliate program?
Let me know in the comment section below right now.
Also, share this post with your friends and struggling bloggers who are looking for affiliate programs to monetize their audience to make some passive income.
Top 29 #AffiliatePrograms You Must Join to Monetize Your Audience in 2023 #AffiliateMarketing
Click To Tweet
If you loved what you read, would you be able to buy me a cup of coffee? It's okay if you can't right now.
If you have any questions or if you wanna work with me, feel free to contact me. I'm always available to help young hustlers like you!
Keep hustling!
Download this affiliate spreadsheet, promote these tools, and make money online