Hey, looking for a simple and beginner friendly guide on how to start a money-making blog in 2023?
You've come to the right place!
Today I'm going to show you exactly how to start a profitable blog and make money blogging in 2023.
Let's dive right in.
Related post: How Much Does It Cost to Start a Money Making Blog (The Cheapest Way)
Before starting a blog:
Decide what you want to blog about – Choose a niche you are passionate about
Consistency is the key to your blogging success.
If you are blogging just because of money and you aren't interested in what you are writing, then seriously, blogging is not for you!
Before starting a blog, you should choose a niche you are passionate about.
When picking a niche for your blog, make a note on the business value and the future of that topic.
A niche helps you find your targeted audience.
For example:
My blog Inuidea is all about online business, blogging, marketing, finance, and entrepreneurship.
Look:
I have a bunch of niches, but they all are related to each other, and the best thing is that I love sharing my thoughts and knowledge about these topics.
And who are my targeted audience?
Yes! Inuidea.com is a blog for young hustlers, bloggers, and aspiring entrepreneurs.
And because of my crystal clear niches, I know for whom I write a blog post. This way, I can connect and build a strong bond with my readers.
If you don't know how to start a professional blog on your own, you can contact me!
This post contains affiliate links. I may receive a commission for purchases made through these links. This commission comes at no extra cost to you. Also, I don't recommend anything that I don't believe in.
Read more: 9 Proven Ways to Monetize Your Blog – Make Money Blogging
After choosing a niche:
Choose a name and a domain name for your blog
A domain name is your website URL.
For example:
The domain name for Inuidea is www.inuidea.com (It can be .org .net .xyz .in, etc instead of .com)
The Google global domain name is www.google.com, but the Google India domain name is www.google.co.in
Clear?
The first step of creating a blog is to choose a domain name for your blog.
It's essential to have a short, catchy, unique, and easy-to-pronounce domain name.
There are over 1.8 billion websites in the world, and maximum number of people choose a .com extension for their sites. That's why it's so hard to get a short and meaningful .com domain.
You can quickly check domain name availability here:
If your desirable creative domain name isn't available, choose a different name or stick to your name.
A lot of successful bloggers are using their name as their domain name. The plus point of using your name as your domain is that it's unique!
In fact,
I'm using my first name on my domain name.
Inu + Idea + .com = Inuidea.com
No matter what your domain name is, If your blog is full of great content, people will love your blog.
So, don't waste your time choosing a great domain name. Just keep it simple, short, and unique.
Read more: 7 Best Blogs to Learn Blogging
Choose a good and reliable hosting
Hosting is like a home where your website is going to live.
Why free hosting sucks?
The reason why free hosting sucks is that they come with an unprofessional domain structure.
For example:
www.yourdomainname.blogspot.com
Look at this:
It's a subdomain, it's long, and It looks unprofessional.
Also, free hosting gives you limited options to customize your blogs or websites.
Best reliable and affordable hosting solution for a new blog
As an online entrepreneur and a blogger, I have used Bluehost, Siteground, BigRock, Dreamhost, and for our web design company, we have used HostGator, but now I'm using Hostinger, which is the cheapest and the best hosting available online.
Hostinger is one of the most reliable and recommended WordPress hosting companies out there.
It's a secure and the most affordable web hosting service you can use to start your blogging journey today.
They have one of the best loading speeds and their support team is fast, effective, and friendly.
If you want a fast and reliable web hosting service with great customer support, then Hostinger is perfect for you. They have affordable hosting plans for every budget and each plan comes with tons of useful features.
All their hosting plans include a free domain name, a free SSL certificate, LightSpeed Cache, 1-click WordPress installer, and lots of other useful features.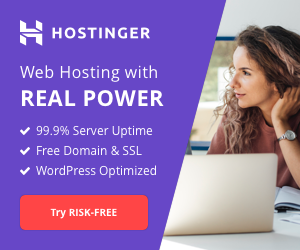 When you purchased hosting and the free domain name from Hostinger, you can install WordPress from the hPanel.
After installing WordPress, now you are ready to open your WordPress dashboards to start customizing your blog.
Read more: 11 "Must Have" Free WordPress Plugins Every Blog Needs.
Choose a good looking and customizable Theme
Enough back-end setup!
Now we are going to do some front-end setup for your blog.
Till now, your blog has a name, a home to stay, but your blog is naked! LOL.
A theme is like a dress for your blog.
You can choose a good looking theme, and you can make modifications. Also, you can change your blog theme, just like a dress.
Once you're in your WordPress site dashboard, you can install a theme on your blog.
Plenty of free themes are available on the WordPress.org site or other third party websites.
But just like the free hosting sucks, free theme sucks too.
They aren't fully customizable and secure. Free themes look unprofessional, and they also want attribution!
So what's the solution?
Well, there are thousands of pre-built premium themes available on many WordPress theme selling marketplace.
By installing a pre-built, premium theme, you will be able to create a complete, good looking, and professional site without coding.
If you are a newbie blogger, I recommend Divi by Elegant Themes.
Divi is a responsive and multipurpose WordPress theme. It supports drag and drop site building. Elegant themes also have amazing customer support.
For Inuidea, I'm using Avada by Envato Market.
And I'm in love with this theme. It's the #1 selling theme of all time.
Just like Divi, Avada too a responsive and multipurpose WordPress theme that supports drag and drop building. You can create a unique and any website using Avada.
Need free help with Avada or WordPress themes? Contact me.
Related Post: 7 Best WordPress Themes for Blogs
Essential Things to do After Installing WordPress – Configure Settings and Install Plugins.
WordPress installation comes with a sample post, a sample page, a sample comments, and some default settings. You should configure those default settings to improve your blog.
So, here is the first thing you should do after installing WordPress:
Delete defaults (Post, Page, and Comment)

Set your timezone – Go to

Settings

>

General

and select your timezone.

Click 'Save Changes'.

Set user registration – Allow or disallow people to register on your blog. The setting is available in the General section.

Set WordPress discussion settings –

Go to Settings > Discussion and follow this screenshot and configure discussion settings.

Connect

Google Analytics

. Install the free

MonsterInsights

plugin and easily connect Google Analytics to your WordPress blog.

Set up WordPress permalinks – Go to

Settings

>

Permalinks

and select

'Post Name'

.

Click 'Save Changes'.

Install

"must-have" free WordPress plugins for your blog

. –

Some plugins are essential to your blog. They can improve the SEO, security, and performance of your blog.
That's it, after changing default settings and installing some essential plugins, now you are ready for the next step.
Add essential pages to your blog
1. Home page.
Your home page is all about your blog. It reflects your complete blog to your visitors. Make your homepage unique and extremely relevant to your blog.
2. About Page
Sometimes when your visitors are going through your blog or a high-quality blog post, they're going to get curious and want to learn more about you.
By having an extraordinary about page, you can connect with your visitors; you can easily build a relationship with them and convert them into lifetime readers of your blog.
3. Contact Page
If you write great content on your blog, your readers are going to contact you to say thanks.
Sometimes they will contact you by asking for help from you. Also, your readers will give you suggestions to improve your blog.
Apart from that, brands and companies will want to contact for business inquiries.
4. Privacy Policy Page
Your blog isn't just a blog, now blogging is a business, and business grows when your customers trust you.
Internet users are now concerned about their personal information. A privacy policy informs your blog visitors about how protected they are when they visit your blog. This way, you can gain some trust from your blog visitors.
A privacy policy is required by law if you collect personal information from users.
Also, it's necessary if you use third-party services such as Google Analytics, Adsense, etc.
Publish Quality Content
Content is king!
Maybe you've heard this evergreen sentence.
It's true.
Content is the most crucial part of your blog.
You should write informative, engaging, and SEO-friendly articles to get more visitors to your blog.
How to write an engaging blog post?
1. Add a personal touch –  When you are writing a blog post, always write using 'You' and 'I'. Because there is a single person, who is reading your blog post. Just like you are reading this post alone.
Don't just write for the search engine. Make sure you aren't behaving like a robot. Keep in mind that you are a person writing a blog post for another person.
2. Write better headlines – Add power words, and emotional words, and also add keywords to your blog post headline. Use Coschedule Headline Analyzer to analyze and improve your blog post headlines.
3. Write detailed content – Always write in-depth and detailed content. Feel free to write (1000+ words) long content. Also, try to help your readers by solving their problems.
Read more: Grammarly Review 2022: Boost Your Confidence and Enhance Your Writing
4. Add bucket brigades – You may be wondering what is "bucket brigades"?
Bucket brigades are words and phrases that add conversational value to your content. Bucket brigades make your content more conversational and engaging.
Some examples of bucket brigades are – "Look at this", "Sounds familiar?", "Ready?" etc.
Look at my content. I'm using lots of bucket brigades to make my content more engaging.
5. Use visuals on your blog – Add screenshots, graphs, infographics, and stock images. Don't copy images from Google. Use copyright free stock image sites to download images for free.
Using CopyAI, you can generate complete high-quality blog posts in a matter of seconds. Write better copy for content marketing, blogs, websites, and more — all in one click! Save time and get better results with CopyAI, the world's leading artificial intelligence copywriting tool.
Promote your blog and drive traffic to your blog
Content is the king, but promotion is the queen.
Your blog has no value if there is no one to read your blog.
So what to do?
Don't worry.
There are so many amazing ways to market your blog for free.
1. Social media – Especially Pinterest!
Why Pinterest?
Pinterest is one of the most underrated social media platforms out there. Lots of new bloggers are not aware of the power of Pinterest.
SEO is difficult, and it takes time to rank on Google. So, when you are just starting with a baby blog, you can't get traffic from Google.
Also, Facebook, Twitter, and Instagram don't do well if you don't have a huge fan following, and also on these platforms, only paid promotions works.
But Pinterest works well because it has a different algorithm than other social media platforms. After you saved a Pin on Pinterest, it gets impressions even after a few months.
Related Post: 11 Actionable Ways To Get Massive Traffic From Pinterest To Your Blog
Pinterest Group boards are gems for bloggers. They are very similar to the Facebook group. Multiple Pinterest users can save pins to a group board.
The popular Pinterest group board has a lot of followers. Meaning, more Pinterest users can see your pins at a time, they engage with your pins, and it goes viral.
You can join and contribute (Save your pins) to my Pinterest group board – Traffic Sphere.
If you want to see more blogging tips, online business tips on my Pinterest feed, then be sure to follow me on Pinterest.
Also, make sure that you are promoting your blog on other social media platforms too. It helps you with building your brand.
Look at my Instagram profile.
Instagram is not my primary traffic source. But I'm creating posts, especially for my Instagram feed.
So, feel free to promote your blog on every social media platform available on the internet.
2. Comment on other relevant blogs
Whenever you like a blog post on a related blog, don't just leave.
Drop a valuable comment or ask a question.
Blog commenting helps you get traffic, build relationships, build your brand, and it also helps you with SEO, even though blog comments give you a nofollow backlink.
3. Join and help people in blogging communities.
Facebook groups and online forums are a great place to show off your authority and build your brand by helping fellow bloggers.
Quora is another great place to promote your blog. If you write a helpful answer on Quora and link out to your blog, hundreds of people will visit your blog.
Read more: 17 Amazing Free Websites to Download Copyright Free Stock Images
Grow Your Email List
The money is on the list. 
This line is so true!
Top bloggers, media companies, business websites, and start-ups use an email list to market, monetize, and grow their businesses.
Email marketing is vital if you want to start a money-making blog in 2023.
You should invest your time and money in an excellent email marketing service to grow your email list.
I'm using MailerLite, an alternative to MailChimp. 
MailChimp isn't a branding-friendly and beginner-friendly email marketing service. On the other hand, Mailerlite is beginner-friendly, and it lets you easily customize and create beautiful email forms that fit with your branding.
MailChimp's free version lets you have up to 2000 subscribers, and Mailerlite's free version allows you to have up to 1000 subscribers.
But 1000 targeted subscribers is enough to market and monetize your blog as a starter blogger.
After that, you can use their service, or you can use other email marketing services such as Convertkit, Aweber, etc.
Monetize your blog
I suggest you wait at least 5-6 months to try different ways to monetize your blog.
In the beginning, Instead of thinking about monetizing your blog, you should focus on creating quality content, and promoting and building your brand.
But you can use affiliate marketing to monetize your blog from day one.
Ways to monetize a blog.
Once you have at least 20 blog posts on your blog and your blog gets around 10,000 views, you can monetize your blog following these methods.
1. Ads – We all know about Adsense. It's the best Ad network to monetize your blog traffic.
But in order to make some real money from ads, your blogs need a lot of traffic.
Related Post: How to Get Google Adsense Approval Fast With a New Blog.
2. Affiliate marketing – Affiliate marketing is a process of earning a commission by promoting and selling someone else's products.
You can join affiliate programs like Amazon Associates, ShareASale, etc. to get a unique link to promote a product on your blog.
Related Post: Top 29 Affiliate Programs You Must Join to Monetize Your Audience
3. Services – If you have any professional skill, you can promote and sell your services on your own blog.
For example:
You can promote and sell your consulting service, design service, or other services on your blog.
4. Products – You can sell your own products too. From printables to e-book, you will be able to sell anything that is valuable and helpful to your visitors.
5. Sponsorship – As you grow your blog, you can collaborate with brands. They can contact you to write a sponsored post for their products.
Also, you can contact the brands you want to collaborate with. Tell them how you can help grow their brand. But keep in mind that It works when you have a popular blog.
Now it's your turn!
Hey, you've read a blog post on How to start a money-making blog in 2023.
Are you feeling confused?
Feel free to contact me for free assistance on starting your first blog.
Finally, the question is:
Are you going to start a blog?
Or maybe you have a blog.
Tell me, What are you blogging about?
Leave a quick comment below.
Like this post? Don't forget to share it with your friends and aspiring bloggers, who want to start a money-making blog in 2023.
Featured image designed in Canva