These are the resources I use to make my blogging journey, personal life, work life, and daily hustling life easier.
I strongly recommend these resources to grow your business and to make your online business and online entrepreneurial journey easier.
These resources include blogging resources, productivity tools, free design tools, books, free social media communities, and lots of other free and premium resources.
The best part is,
Most of these resources are completely free! (That means no affiliate commission!!! LOL)
Some of the links below are affiliate links, which means that if you choose to make a purchase, I will earn a commission. This commission comes at no additional cost to you. Please understand that I have experience with all of these companies, and I recommend them because they are helpful and useful, not because of the small commissions I make if you decide to buy something. Please do not spend any money on these products unless you feel you need them or that they will help you achieve your goals.
CopyAI
Using CopyAI, you can generate complete high-quality blog posts in a matter of seconds. Write better copy for content marketing, blogs, websites, and more — all in one click! Save time and get better results with CopyAI, the world's leading artificial intelligence copywriting tool.
Hostinger
As an online entrepreneur and a blogger, I have used Bluehost, Siteground, BigRock, Dreamhost, and for our web design company, we have used HostGator, but now I'm using Hostinger, which is the cheapest and the best hosting available online.
Hostinger is one of the most reliable and recommended WordPress hosting companies out there.
It's a secure and the most affordable web hosting services you can use to start your blogging journey today.
They have one of the best loading speeds and their support team is fast, effective, and friendly.
If you want a fast and reliable web hosting service with great customer support, then Hostinger is perfect for you. They have affordable hosting plans for every budget and each plan comes with tons of useful features.
All their hosting plans include a free domain name, a free SSL certificate, LightSpeed Cache, 1-click WordPress installer, and lots of other useful features.
So what are you waiting for?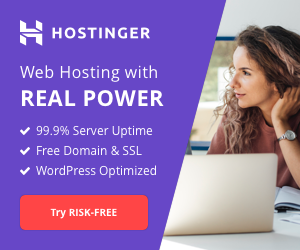 Namecheap
Wanna buy domains for your blog or your online business?
If you're looking to secure a domain for your brand, then Namecheap is where you go!
ConvertKit
Made by bloggers, for bloggers, and endorsed by people like Pat Flynn! ConvertKit is an authoritative email marketing service provider that is specially marketed towards bloggers.
If you're looking for an email marketing tool that is easy to use, amazing to look at, and properly optimized to grow your emails, you NEED to get ConvertKit!
Envato Market
Envato is a premium marketplace from where you can buy digital products such as WordPress themes, code script, graphic design templates, mock-ups, stock images, premium music, and more. 
For my blog, I'm using the Avada theme, which is a premium theme available on ThemeForest, Envato Market.
WordPress Themes
A good-looking theme can make all the difference between a boring website to an engaging and interesting website.
There are thousands of pre-built premium themes available on many WordPress theme selling marketplace.
By installing a pre-built, premium theme, you will be able to create a complete, good looking, and professional site without coding.
If you are a newbie blogger, I recommend Divi by Elegant Themes.
If you want to design a highly customized, extremely well-built, and SEO optimized website, I highly recommend StudioPress by WP Engine.
For my blog, I'm using the Avada theme, which is a premium theme available on ThemeForest, Envato Market.
Affiliate Programs to Monetize Your Audience!
Affiliate marketing is a huge opportunity to make passive income from your blog. And It can drive more revenue than Adsense ads.
So, if you have a loyal target audience, you should use affiliate marketing to convert your blog into a money-making blog.
Check out the top 29 affiliate programs you must join to monetize your audience.
Join Young Hustlers!
Join 'Young Hustlers' – a place for online entrepreneurs, bloggers, hustlers, and digital nomads to lend support and share advice to help each other.
Come on hustlers, Let's change the world together.
Join the group, don't spam, and get involved!
Join Pinterest Group Boards
If you want to increase your reach on Pinterest to bring massive traffic to your blog traffic, you should join relevant Pinterest group boards.
You can join my group board – Traffic Sphere. It's a group board where you can save unlimited pins that are related to online business, blogging, entrepreneurship, marketing, and other relevant topics.
The main motive of 'Traffic Sphere' is to drive more traffic to each contributor. So, try to engage with each contributor by repinning their pins.
To join 'Traffic Sphere', at first follow me on Pinterest and DM me on Instagram or request to join the board on Pinterest itself.
UpdraftPlus
UpdraftPlus is the most popular WordPress backup plugin. It allows you to automatically backup your complete site and safely stores your site backup file on a cloud service such as Google Drive, Dropbox, UpdraftVault, etc.
It has an option to manually backup your site with a single click and also, and you can restore your site with one click.
All these features work for free, but UpdraftPlus have a paid plan with more features and premium support.
Read more: 11 "Must Have" Free WordPress Plugins Every Blog Needs
Tailwind
Want to automate your pinning strategy to generate massive traffic on auto-pilot?
If you want to get massive traffic from Pinterest to your blog, you have to save engaging, attractive, and valuable pins consistently.
But it's hard to stay consistent by saving pins manually. That's why many bloggers and I use Tailwind to automate our pinning strategy and to schedule our pins.
Tailwind helps you stay consistently active on Pinterest with minimal effort.
You can schedule your first 100 pins for free using Tailwind!
So what are you waiting for?
Books
Download the free printable PDF version of my book and learn more about the 37 genuine online business ideas and passive income-generating business ideas you can start and convert into a profitable business.
Also, If you are a true hustler and an aspiring entrepreneur, I recommend (from the bottom of my heart) you two of my favorite book, 'Rich Dad Poor Dad' by Robert Kiyosaki and 'Crushing It' by Gary Vaynerchuk, to learn more about income streams, new age business strategies and to achieve financial independence.
Canva
Canva is an essential design tool for bloggers, digital marketers, entrepreneurs, and small business owners.
It's a beginner-friendly online design tool, and the best part is it has a free version.
I'm using Canva to design engaging Pinterest pins, blog graphics, and other social media designs, E-books, and more.
Read more: 17 Amazing Free Websites to Download Copyright Free Stock Images
Mailerlite
The money is on the list. 
This line is so true!
Email marketing is vital if you want to start a money-making blog.
Mailerlite is a beginner-friendly email marketing and automation tool that lets you easily customize and create beautiful email forms that fit your branding.
It's a great alternative to MailChimp because it's easy to customize features. Mailerlite free plan lets you have up to 1000 subscribers.
Grammarly
You want your writing free of embarrassing grammatical errors and mistakes, right?
Grammarly is an online grammar checker and proofreading tool that automatically detects grammatical mistakes and helps you avoid typos, grammatical errors, and improve the quality of your writing.
Check out Grammarly Review: Boost Your Confidence & Enhance Your Writing
Grammarly is the tool you should use to write error-free content, and If you're not confident enough to publish your blog posts, you should use Grammarly to boost your confidence.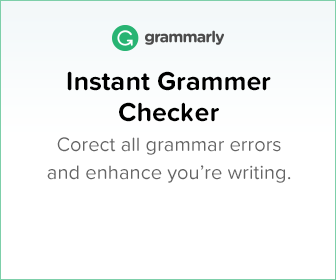 Fiverr
Fiverr is a beginner-friendly and user-friendly freelance marketplace, that's why many freelancers and business owners prefer Fiverr to exchange their money and services
Fiverr is a very affordable freelance marketplace, as the services start from $5.
Hire talented freelancers from Fiverr or start working as a freelancer on Fiverr.
Udemy
Udemy is the most reputable e-learning platform with over 50,000 instructors, 100000 courses (in over 60 languages), and 30 Million students.
I have enrolled in some Udemy courses and I think Udemy is one of the best places to learn in-demand skills using organized online courses.
Want to learn in-demand skills online?
vidIQ
If you want to get more views on your YouTube videos, you need to use the free vidIQ chrome extension.
It helps you maximize your organic reach and helps grow your YouTube channel fast. They also offer paid plans with more amazing features.
TubeBuddy
TubeBuddy is the best YouTube management tool that offers a free extension from Chrome and Safari browser that adds smart YouTube management features to grow your YouTube channel. They also have paid plans with more amazing features.
LastPass
LastPass is a password manager that stores encrypted passwords online. The free version of LastPass comes with a web interface, but also includes extensions for various web browsers and apps for smartphones.
It's really hard and messy to manage and memorize all your passwords when you're a blogger or an online entrepreneur. I'm using LastPass for a long time to manage all my affiliate accounts and other important website login details.
99design
99design is a design specific freelance marketplace, and it's the best place to find and hire talented designers for your creative projects or to grow your business.
Hire talented designers from 99design!
Best Blogs to Learn Blogging, SEO, Marketing, Entrepreneurship, and more!
The Smart Passive Income Blog, WPBeginner, Neilpatel.com, and Backlinko.com, these are my favorite blogs where I have learned a lot about blogging, SEO, digital marketing, online business, and entrepreneurship.
Check out:
PayPal
PayPal is easy to use and one of the best online payment systems that provide an easy and quick way to send and request money online.
I'm using PayPal for a long time to receive international payments from Google Adsense, business partners, and clients from all over the world.
So, I think PayPal is an essential tool for you if you're an online entrepreneur, blogger, freelancer, or anyone who's working online and wanna receive payments online.
Like me, if you open a PayPal Business account for receiving international payments, both of us could earn US $10 each!
So what are you waiting for?
Skyroam
Skyroam is a global hotspot, which means you don't have to buy a new SIM card everywhere you go.
If you're a digital nomad, you can get Skyroam to get a reliable, fast, and secure internet connection whenever you travel internationally to work from anywhere in the world.
Inuidea readers get an exclusive discount with promo code INUETC.
Popular Blog Posts
Learn more about entrepreneurship, online business, freelancing, blogging, marketing, travel, and finance!
If you have any questions or if you wanna collaborate with me in any way, feel free to contact me. I'm always available to help young hustlers like you!