As a blogger, we want ourselves to stay focused on our work to get success in blogging. In other words, we want to grow our blog to make money blogging.
I know it's hard to focus on your work when you're surrounded by so many distractions, but you have to be focused to work hard and smart to make more money from your blog.
That's why today I'm here with some of the most helpful and productive mobile apps for bloggers that you should use as a blogger to make your blogging journey easier.
Let's dive right in.
1. WordPress
WordPress app allows you to do just about all the things you would normally do from your desktop.
For example,
You can draft a new post on your blog, review comments, track stats, and view other details right from your smartphone.
By using this app you can easily manage your free WordPress.com blog as well as your 'self hosted' blog from your smartphone.
The best part,
It's a reliable app because it's an official app by Automattic, the creator of WordPress.
2. Google Tasks
Feeling forgetful?
Relax man!
As a solo blogger, you've to manage multiple tasks in a day and nobody is capable of remembering everything at all times.
Organizing your tasks with a to-do list can make everything much more manageable.
A to-do list can boost your productivity, it helps you clarify your goals and that's why you get more done with a to-do list app.
I used a lot of task manager apps but I think Google Tasks is the best task manager and to-do list app, because of its elegant look and easy to use features.
Google Tasks lets you create a to-do list within your desktop Gmail, Google Docs, or the Google Tasks app.
It syncs across all of your devices and you can easily manage, and edit your tasks from anywhere, at any time.
3. Google Docs
I always use Google Docs to write blog posts. Because while writing I often collaborate with my team and it's easy to collaborate here.
Also, in Google Docs it's easy to format a blog post by using H2s, H3s, titles, font, bullet points, etc.
Also, the Grammarly Chrome extension supports the web version of Google Docs. So, you can easily check grammatical errors and enhance your writing in Google Docs.
The mobile app is so simple with a clean interface, it's easy to use and by using all features you can easily write a ready to publish, well-optimized blog posts on your smartphone.
4. Canva
I love Canva and I think it's an essential design tool for bloggers, digital marketers, entrepreneurs, and small business owners.
It's a beginner-friendly and easy to use online design tool, and the best part is it has a free version.
I'm using Canva to design engaging Pinterest pins, blog graphics, social media graphics, E-books, and more.
By using Canva mobile app or web app you can quickly design almost anything using free pre-made and ready to use templates.
Also, you can collaborate with your friends and coworkers to work together and faster.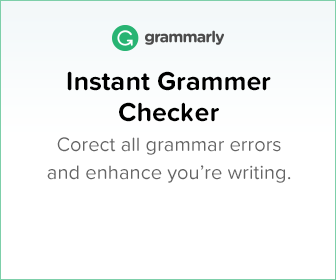 5. Grammarly
You want your writing free of embarrassing grammatical errors and mistakes, right?
Grammarly is an online grammar checker and proofreading tool that helps you avoid typos, grammatical errors, and improve the quality of your writing.
Check out Grammarly Review 2020: Boost Your Confidence & Enhance Your Writing
Grammarly offers a Keyboard app for Android and iOS, that you can use on your mobile device to write mistake-free emails, blog posts, or social media posts.
It automatically detects grammatical mistakes and provides lots of features that help you enhance your writing right from your smartphone.
6. Google Analytics
Google Analytics is an essential web analytics tool by Google that tracks and reports website traffic. 
The official Google Analytics mobile app lets you monitor your website traffic right from your smartphone.
With this app, you can monitor real-time data and the app allows you to check out just about all web analytics data you would normally check from your desktop.
7. Google Adsense
We all want money, and we love to see how our money grows up daily.
If you're using Google Adsense to monetize your blog, you can use Adsense mobile app to see all your revenue statistics.
You can check your estimated earnings and other statistics such as page views, impressions, clicks right from your smartphone.
Google AdSense is no longer available on Android and iOS, you can open the Adsense website on your smartphone browser to see your earnings.
This post contains affiliate links (I don't recommend anything that I don't believe in), meaning at no extra cost to you, I might receive a small commission for purchases made through these links.
8. Pocket
The pocket app allows you to save almost anything from anywhere so that you can check out later. You can save articles from Twitter, Feedly, and from sites you want.
Pocket's clean layout, elegant design, dark mode, and other features give you a relaxing reading experience.
Also, Pocket's listen feature turns any article, or blog post into a podcast. So you can just relax and listen to the articles to learn new things.
9. Pinterest 
I love Pinterest because it drives massive traffic to my blog and when it comes to traffic generation, SEO and other social media take time, but Pinterest reacts in just one day!
You can use Pinterest to discover new ideas and to share your ideas with millions.
You can build a following by sharing your helpful content. Also, you can use Pinterest to drive massive traffic to your blog.
The Pinterest mobile app allows you to manage your Pinterest account from your smartphone. You can save new pins, track analytics, and view other details right from your smartphone. 
10. Google Keep
Google Keep is a really useful app that allows you to add notes, photos, and audio. It syncs across all of your devices so that you can track your thoughts from anywhere.
You can add labels and colors to your notes to quickly organize them, it will help you easily find them later.
Also, you can set reminders and If you want to find a note you saved, a simple search will turn it up.
11. PayPal
I'm using PayPal for a long time to receive international payments from Google Adsense, business partners, and clients from all over the world.
PayPal app is a more simple and secure way to send and request money online.  for you, if you're a blogger, freelancer, or anyone who's working online and wanna receive payments online.
Like me, if you open a PayPal Business account for receiving international payments, both of us could earn US $10 each!
So what are you waiting for?
12. Gmail
Now, I'm not going to write a long essay on Gmail. LOL.
We all know about Gmail.
Gmail is an easy-to-use free email service developed by Google that saves you time and keeps your messages safe.
The best part,
You can set-up your professional email address with Gmail and manage your professional mail account from your phone.
A professional email address is the one that has your brand name or business name in it.
For example,
inu@inuidea.com is a professional email address.
You should use Gmail because of its organized inbox, it blocks spam and keeps your account secure.
Also, you can access Gmail right from your smartphone and anywhere.
13. Pomodoro Timer
The Pomodoro Technique is a time management method developed by Francesco Cirillo in the late 1980s.
The technique uses a timer to break down working sessions into intervals, traditionally 25 minutes in length, separated by 5 minutes of short breaks. 
As a busy blogger, you can use a Pomodoro Timer to use The Pomodoro Technique while you write blog posts or when you design graphics for your blog and social media.
It can boost your productivity because frequent breaks keep your mind fresh and focused.
Also, the timer creates a sense of urgency and makes you more responsible for your tasks and reduces the time you spend procrastinating.
14. IFTTT
Do you want a free virtual assistant that could automate various aspects of your social media and blogging?
IFTTT (If This Then That) is that virtual assistant that can automate almost anything on your phone.
It allows you to automate your social media, blogging and there are a lot of other automation features available on IFTTT that makes your blogging journey easier and productive.
You just have to connect different apps and set conditions for different apps using IFTTT Applets, and when those conditions are matched IFTTT performs the operation you have defined.
For example,
It can tweet your new blog posts, share them on Facebook, retweet articles, backup your Instagram photos to Dropbox, share your tweets to Tumblr, and lots more.
15. Pushbullet
Pushbullet allows you to share files between your devices. It works on all operating systems plus all major browsers.
I often use Pushbullet to send important files and links to my desktop from my phone.
It also allows you to view notifications from your phone in your desktop app or browser.
You can also view and send text messages, WhatsApp messages, and more to your phone from your desktop.
Download for Android or Windows
16. LastPass
It's really hard and messy to manage all your passwords and I think it's impossible to remember all your affiliate accounts passwords, and lots of other websites login details.
LastPass is a secure password manager that stores encrypted passwords online.
The free version of LastPass comes with a web interface, but also includes extensions for various web browsers and apps for smartphones.

17. Anchor
As a blogger, if you want to build a loyal audience you should go omnichannel nowadays.
So, If you want to start a podcast to share your knowledge to build a loyal audience and to make money podcasting, you can use Anchor to start a podcast for free in 2022. 
Anchor helps create a professional podcast and you can distribute your podcast to all major podcast streaming platforms for free.
By using the Anchor app you can record audio from anywhere. Also, you can record remote interviews with up to 4 guests or co-hosts.
Final Thoughts: Must-Have Mobile Apps for Bloggers in 2022
I'm using all these apps to make my blogging journey easier and I recommend you all these blogging apps if you're struggling to manage your time or if you want to boost your productivity.
These apps not only help you in blogging but also these apps will help you with your social media, daily life, and online entrepreneurial journey.
Now It's Your Turn
Hey, I hope you enjoyed reading this blog post about must-have mobile apps for bloggers in 2022
Now I'd like to hear from you:
Which is your favorite app from this list?
Let me know in the comment section below right now.
Also, share this post with your friends and bloggers who are looking for some blogging apps to make their blogging life easier.
If you have any questions, feel free to contact me. I'm always available to help young hustlers like you.
Keep hustling!
This article is edited by Inu Etc and co-authored by Baharul Islam.